For the past several years, the topic of "decoupling," or more recently "de-risking," has dominated U.S.-China policy discourse as both nations vie for global economic supremacy. However, given the deep interconnectedness of trade ties with China and the associated gains not only for the United States but also its allies and partners, just how desirable, realistic, and effective is decoupling from China? To what degree are countries, especially in Asia, willing to align with U.S. interests to diversify away from China, while maintaining the economic benefits of a close trade relationship?
Syaru Shirley Lin of the Center for Asia-Pacific Resilience and Innovation (CAPRI) spoke at the National Bureau of Asian Research (NBR) on Tuesday, November 14, from 10:00 a.m. to 11:30 a.m. EST with other experts on shifts occurring in the global trading system and their strategic implications for key countries and regions across the Indo-Pacific. This in-person event marks the release of Strategic Asia: Reshaping Economic Interdependence in the Indo-Pacific.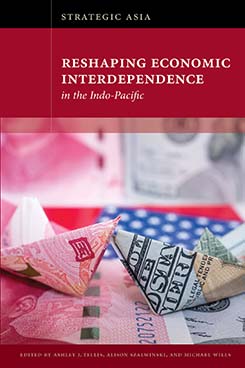 Related Publication
Taiwan: Walking the Tightrope between the United States and China
This chapter examines the implications of U.S.-China decoupling for Taiwan's integration with the Chinese and world economies and explores how this economic fragmentation is shaping the context in which the Taiwanese are determining their island's future.
Read the chapter here.