About the Event
As populism is on the rise from the United States and Europe to the Asia Pacific, many fear that it presents a serious challenge to democratic institutions. The COVID-19 pandemic, climate change, and other crises have shown that for democracies to be resilient to shocks, they need both good governance and public support. How can democratic leadership maintain public trust, enhance resilience, and improve political institutions to avoid democratic backsliding?
Join us for a conversation led by Steve Mull, Vice Provost for Global Affairs at University of Virginia, with Malcolm Turnbull, former Prime Minister of Australia and Chair of the International Advisory Council of the Center for Asia-Pacific Resilience and Innovation (CAPRI), and Lucy Turnbull, former Lord Mayor of Sydney, who will discuss characteristics of effective leadership from the local to the global level. Malcolm Turnbull will discuss his national and international leadership as well as his initiatives to promote cooperation in the Asia Pacific, such as salvaging the floundering Trans-Pacific Partnership and supporting the formation of CAPRI. Lucy Turnbull will share her experiences in creating and managing sustainable urban spaces that enable people and communities to thrive.
This event is co-sponsored by CAPRI, the Miller Center of Public Affairs, UVa Global, and the Karsh Center for Law and Democracy. Read more at the UVa Global website.
About the Speakers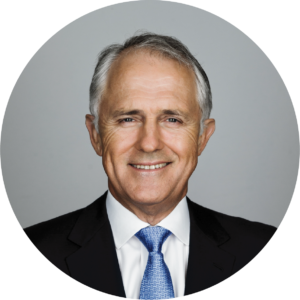 The Honorable Malcolm Turnbull AC
Prime Minister of Australia (2015-2018)
Chair of the International Advisory Council of the Center for Asia-Pacific Resilience and Innovation
Australia's 29th Prime Minister (2015-2018) had international careers in law, business, and the media before entering politics at the age of 50. As Prime Minister, he reformed Australia's personal income tax, education and childcare systems, oversaw the legalization of same sex marriage and announced the construction of Snowy Hydro 2.0, the biggest pumped hydro scheme in the southern hemisphere. Mr. Turnbull embarked on the largest peacetime investment in Australian defense capabilities and set out Australia's first national cybersecurity strategy. Globally, Mr. Turnbull played a leading role in reviving the Trans-Pacific Partnership (TPP-11 or CPTPP) after the United States withdrew. He also struck deals with US Presidents Obama and Trump to accept refugees who tried to arrive in Australia illegally by boat. As a young lawyer, Mr. Turnbull successfully defended former MI5 agent Peter Wright against the British Government in the 1986 "Spycatcher" trial before entering business, where he ran his own investment banking firm for a decade before joining Goldman Sachs as a partner in 1997. Both before and after his political career, Mr. Turnbull has been a successful venture capitalist. He cofounded OzEmail Limited, the first Australian tech company to be listed on the NASDAQ. Since leaving politics, Mr. Turnbull has resumed his business career. He is a senior adviser to KKR and an investor in, and adviser to, many Australian technology businesses. He is a director of the International Hydropower Association and Chairman of Australian Fortescue Future Industries. Mr. Turnbull speaks and writes on a range of issues including cyber security, geopolitics, and renewable energy.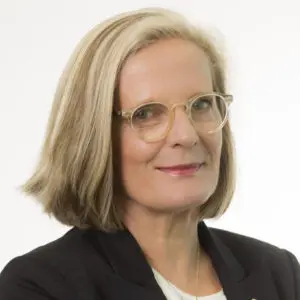 Lucy Hughes Turnbull AO
Lord Mayor of the City of Sydney (2003-2004)
Chief Commissioner, Greater Sydney Commission (2015-2020)
Lucy Hughes Turnbull AO is an urbanist, businesswoman, and philanthropist with a longstanding interest in cities, culture, technological and social innovation, and Australian research and commercialization. Lucy is a Director of Turnbull and Partners Pty Ltd, a family-owned business which invests in earlier stage innovative enterprises. In January 2020 she was appointed by the New South Wales (NSW) government as Chair of the Sydney Opera House Trust. From 2015 to 2020 she was the inaugural Chief Commissioner of the Greater Sydney Commission, tasked by the NSW state government to assist in delivering strong and effective strategic planning for the whole of metropolitan Sydney. Prior to that she spent several years as Deputy Chair and Chair of the Committee for Sydney. From 2003 to 2004 she was Lord Mayor of the City of Sydney, the first woman ever to hold the position. She has held many other board roles in the not-for-profit and private sector, including the Art Gallery of New South Wales Trust, National Portrait Gallery, Museum of Contemporary Art, Redfern-Waterloo Authority, Redfern Foundation, and the Sydney Children's Hospital Foundation. In 2011 Lucy was awarded an Order of Australia for her services to the community, local government and business. In 2012 she was awarded an honorary doctorate from University of New South Wales Business School, in 2017 she was awarded an honorary doctorate (Arts) from Western Sydney University, and in 2013-18 she was Honorary President of the German-Australian Chamber of Commerce.