Nancy Pelosi's visit to Taiwan became a flashpoint in US-China relations, not to mention cross-strait relations. Especially after the shock many experienced when Russia invaded Ukraine this year, Pelosi's visit only further escalated concerns about a Chinese attack against Taiwan. Ultimately the worst outcomes were avoided, but the incident calls for a major reevaluation of the situation in the Taiwan Strait. How can we move beyond traditional security considerations in order to prevent further conflict in the Straits?
For our second CAPRI Conversation, we invited Admiral Chen Yeong-Kang of the ROC Navy (Ret.) to lead a discussion with our directors, staff, and their guests on "Taiwan's Defense Strategy and Geopolitical Risks after Nancy Pelosi's Visit."
The most effective deterrence strategy for Taiwan is to build a resilient society. Our conversation revealed the importance of defense planners and policymakers tackling their respective challenges with a cross-sector approach. Moreover, modern defense strategies depend on talented people as much as they depend on military capabilities. Innovative thinking and improvements to education and talent cultivation are needed if Taiwan is to have capable forces and successful strategies. Education, perhaps more so than weapons, is crucial for helping the Taiwanese community build resilience to pressing challenges and generate innovative solutions for potential crises.
Admiral Chen graduated from the ROC Naval Academy in 1974, the Naval Command Staff College in 1986, and the U.S. Naval War College in 1997. After 40 years of service in the Navy and in the academic, policy, and operations areas of the Ministry of Defense, he retired as Chief of Navy. Subsequently as Vice Minister for Policy, he served as the senior civilian advisor to the Minister. His expertise lies in international security, Taipei-Beijing-Washington relations, national security and defense policy, and integration assessment.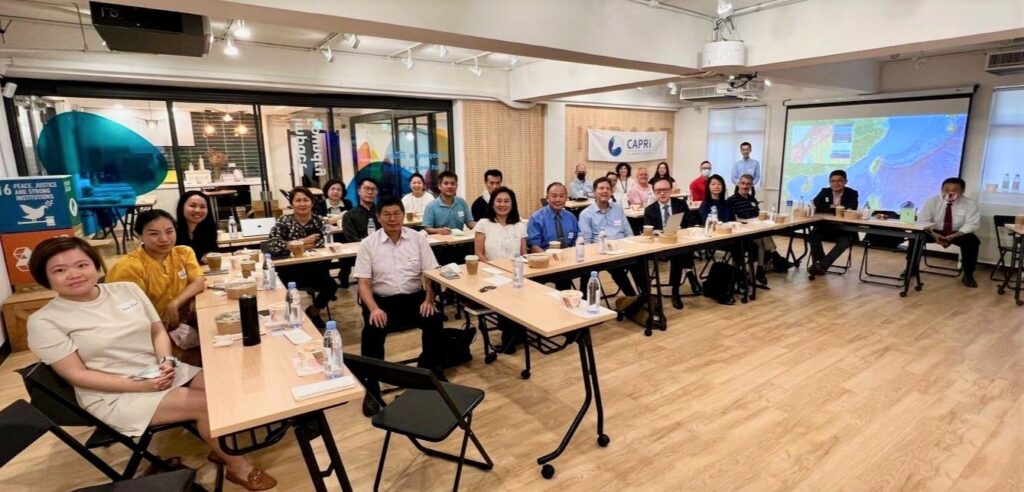 CAPRI with Admiral Chen Yeong-Kang
CAPRI Conversations are a series of conversations featuring topics of particular interest to us here at CAPRI. These in-person events are held at our Taipei office and are invite-only for our directors, staff, and their guests, in order to keep the discussion more open and to facilitate honest debates about solutions.